Are you ready for some new clients right NOW?
Would you like some specific proven action steps that you can take TODAY to help you to get new clients, boost profits, build new future relationships, and build a foundation to recover from this crisis and move forward?
There is a BETTER way to get business leads, even coming out of uncertain moment such as this!
I have years of experiencing in online marketing and promotions for Business Experts, consultants, coaches, and other business owners and entrepreneurs, showing my clients how to…
Sell on stage

Find new clients

Generate bigger, better business leads

Establish and enhance your brand as an expert

Expand your business into new markets

Get footage of you speaking on stage to use in your marketing materials

Convert your live speaking appearances into digital products (online courses, videos, audio, etc.)

Produce your own live speaking events to build an audience and get connected to other lucrative speaking opportunities

Become an in-demand speaker for PAID keynote speaking opportunities
I have worked with various coaches and consultants in all walks of life, serving all sorts of niches – everything from fashion stylists, dating coaches, authors, therapists to business consultants and beyond. With my experience, I am confident that when we sit down and discuss in greater detail about your strengths and goals, I will be able to help you identify the right niche and the right customers that are ideal for you.
Ready For Me and My Team to Help Promote Your Business?
I CAN DEFINITELY HELP YOU IF YOUR BUSINESS SELLS PROFESSIONAL SERVICES OR PRODUCTS TO ANY CLIENTS WHO ARE…
Stuck in your career and needing a change?

Recently made redundant at work and not sure what to do next?

Interested in starting your own business but not sure where/how to invest or who to work with to help set you up?

A stay-at-home mum who needs something new?

A business owner who wants to take your business to a higher level?

Interested in pursuing a particular passion, but not sure how to make it into a business?

Willing to be a guest speaker on stage to instantly gain credibility and "expert" status?

Needing a business in a box to get started at selling your own professional services and products?

Wanting to join a team of international speakers?

Ready to learn how to create your own products and services so you can be paid as you sleep?

Savvy about social media and curious how to use these skills to make good money?

Tired of "just" supporting your partner's career, and wanting to get started with your own successful business?

Feeling like you have so much more to give?
Watch This Amazing Testimonial From Ex-Dragons Den Rachel Elnaugh!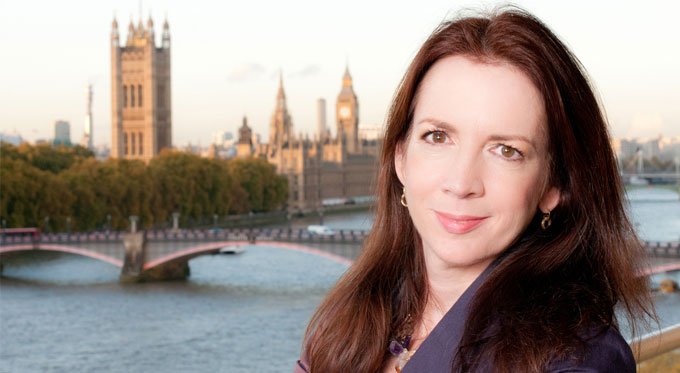 It was such a pleasure to speak at Des's Women in Business event. Also, I have already manifested numerous paying clients as a result of speaking – plus many new speaking offers and JV opportunities – so it was financially rewarding, as well as being great fun!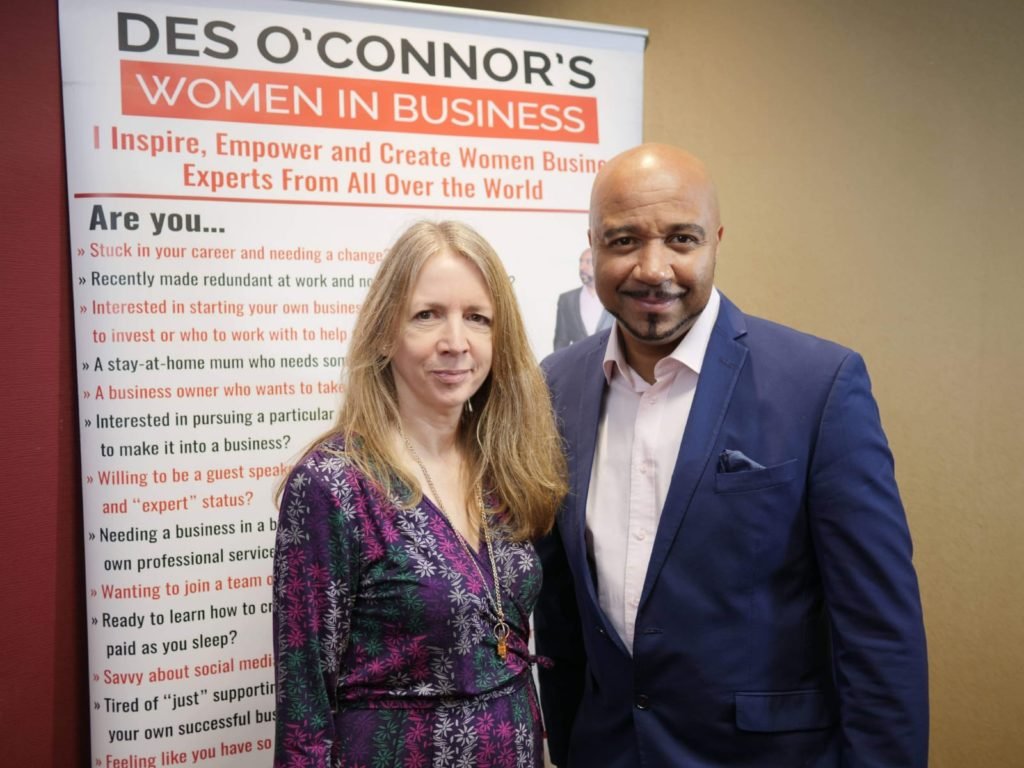 Let's Hear From Some Happy Professionals
Who am I?
I am Des O'Connor, the UK's No. 1 Consultant for Creating Women Business Experts Worldwide, Inspiring Them to Lead, and Empowering Them to Speak On Stage! During the past 10 years I have been hosting, producing and promoting successful live events covering Marketing, Social Media, Dating & Relationships, and much more.
I also have helped my clients utilise online marketing, social media marketing, webinars, and other techniques for remote learning, professional and personal development, and other ways to reach audiences and do business online. There has never been a better time to use powerful online marketing methods to reach your customers and help your business grow!
During the past 10 years, I have built a proprietary database of contacts, social media followers and fans on LinkedIn, Twitter, Facebook and more. This is my list that I use to promote my events, invite people to attend my webinars, and introduce great new products and services that my customers might love.
I don't do this for everyone! But in this moment of crisis I want to offer a ONE-TIME opportunity to only 10 Business Experts, Coaches, or Consultants:
I Will Promote Your Business to MY Private Database.
This is the best chance to promote your business to the very same list of contacts that I have cultivated over the years, the people who know and trust my brand and my business, the people who have showed up time and time again for packed-out events.
This is what we can do for you:
Brand Creation and Build:

Develop a coherent brand for your business, to grow and cement your recognition as a business expert by way of strategic marketing with particular focus on your niche area of expertise.

Strategic marketing includes (but not limited to):
– Generating exposure and promotion of your services to Des O'Connor's databases and social media platforms
– Set up of marketing activities
– Website creation and logo
– Coaching in preparation for live speaking/presentation at our upcoming events

Coaching:
To provide you with daily Zoom and face to face coaching sessions. These sessions will consist of general marketing consultation and coaching to support you with any questions/advice as needed. We can utilise this time to discuss our progress and plans on any of the points listed below and other general marketing needs.

Strategy Consulting:
This is for you if you are at the early stages of your project. In terms of how you want to be known and recognised in your niche area, I will work with you via our coaching sessions to help you evaluate and decide on a focused strategy for your business. I will assist you to discover a "micro niche" for your services that makes sense for your expertise and from a marketing standpoint.

Marketing Services:

In addition to the coaching, you will receive a comprehensive package of consulting and marketing services consisting of:

A. Logo design: my team will provide you with an unlimited selection of designs for you to choose one that you are happy with.

B. Website design: my team will design a multiple-page website for you which will allow you to receive payments for selling your services and products using PayPal or Stripe.

C. Mission statement and tag line: based on your feedback, I will create your own unique, concise, coherent marketing-related description of who you are, what you do, and why it matters.

D. Support: in addition to our monthly formal coaching sessions by Zoom, I will provide unlimited email support and ad hoc WhatsApp messaging as needed. I will be your reliable resource to answer questions and provide advice/guidance/support along the way. Send me questions 24/7 as needed and I will support you throughout our partnership on this project.

E. Promo Videos: in addition to the live recording from your appearances at my DOC Shoe launch event in, I will assist you with additional professionally edited video recordings to enhance and support your new brand. These videos will also be used to position and endorse your global presence.
Emphasis of the video content will be on your products and services, your brand for potential clients to order your services and any future online courses you create.

F. Website content writing: your entire new website will be professionally written in a coherent style and voice demonstrating payment options for your services and products with different levels.

G. Digital products: all day recording with a professional videographer to generate global sales for your products and services and for your book chapters.

H. Design membership site for your brand: this is where all your digital products will be stored securely with a login for all paid clients.

I. Multi-level business packages: for example, Bronze, Silver, Gold and Platinum packages with a variety of incremental benefits and bonuses for more lucrative customers.

J. Advice and mentoring: I will offer strategic ideas to help your brand to become successful. Based on my specific expertise in the business coaching industry, I am well-seasoned and knowledgeable in this field and can offer specific experience and insights to help improve and enhance your new brand.

K. Advise you on how to coach and convert clients to pay you promptly for your services and courses.

L. CRM: Set up of your Customer Relationship Management (CRM) system (Mailchimp, Aweber, Constant Contact, etc.) With the right CRM, we can help you get better results and a more consistent marketing process for your database of contacts.

M. Inbound Sales Leads: I will help you create an "inbound sales lead" system to receive, process and manage your inbound enquiries from prospective customers.

N. Sales Coaching: I will show you how to set up sales funnels (to work your prospective customers through a consistent sales process where they get timely and relevant offers and contacts), how to close the deal with clients and other aspects of making sales.

O. Brand Exposure: I will promote you and your brand to all my contacts via email, SMS, social media, etc. Overall, I will serve as your coach, manager and mentor to help manage all the details of your brand whilst building your audience online and helping you get better at closing sales (online and in person).

P. Promoting you to my database: I have an extensive database of email addresses, social media followers and SMS contacts that I will use to promote your business. My audience is now "your" audience too.

Q. Copywriting: I will help you to prepare all the text (copy) for your promotional material. I have a talented team of writers who can develop your sales copy and help you get bigger results.

R. International opportunities: I will introduce you to my international contacts so you can speak abroad.

Launch Event and Book Launch:

Start your brand as you intend to go on by making the launch of your business as big and engaging as it possibly can be with a professionally produced and managed LIVE launch event. Create an impact by spreading the word to your potential customers using a high-quality and expertly produced live launch platform.

– The event will be live streamed globally so that you have a wider reach enabling you to create more clients with unlimited exposure.
– Potential clients will be able to access your workshop and book launch from their devices and from the comfort of their home.
– We cover all costs associated with this event including, hotel and my full team of videographers, photographers and staff to ensure your launch is successful.
– We will promote the event to our database to create a buzz and encouraging registrations to ensure a good turnout.
– This will provide you with the opportunity to showcase your knowledge and skills to a large dedicated audience with attendance in the conference room and virtually.
– I will host your book launch for you and arrange book signings and show you how to convert them all into paying clients.

Live Events Exposure:

In addition to the marketing services listed above, I will promote you as one of my guests at my upcoming live events in 2022.

For this event, you will receive this package of promotional opportunities:

– Exhibit all day from your own exhibition stand (if required); hand out literature, network in-person, etc.
– Digital Banner – my team will design your promotional banner with your company details for us both to promote so the guests are fully aware of your presence and what you are providing on the day
– 20 minutes on stage to introduce your products and services and encourage the guests to visit your stand
– Promotional video – filmed with our videographer on the day to use for future promotion for your website/social media.
– My team will send a promotional email on your behalf after the event to all guests as another reminder with your website and contact details
– Video recording of your full presentation (professionally edited)
– Your brand mentioned again on stage by the host (Des) to reinforce your brand and encourage new customers to contact you
– Be featured in a live competition/raffle at the event to get more exposure